Let it Snow
After two solid months of rain, we are finally enjoying warm, breezy summer weather. To celebrate, I put on my favorite steel drum Calypso CD while I was preparing the house for Shabbat. Okay, it isn't exactly Hava Nagila, but it definitely got everyone into the joyful spirit of things.
After dinner, the kids found an old pink baby blanket that used to go in Bee's bassinet. They spread it neatly on the floor and announced they were having a picnic. Back and forth they ran to the cupboard, gathering items for their feast: Cheerios, tomato sauce, pancake mix, dried pasta . . . you know, traditional picnic fare.
Isn't it wonderful when the brothers and sisters play so well together? They were so involved in their sweet little game that the adults were able to relax in the family room and chat about the usual topics: our shul's continuing search for a new rabbi, our opinions of the new champion on Jeopardy, and the latest gossip my mom gathered from her weekly yenta breakfast. Every so often, we would stop talking long enough to hear the happy cries of the children from the next room: "Yummy!" "We're drinking our apple juice!" "It's snowing!"
Warily, I turned to Chef. "Uh, honey? What do you think they mean by "It's snowing?"
"It can't be anything good," he sighed.
He was correct.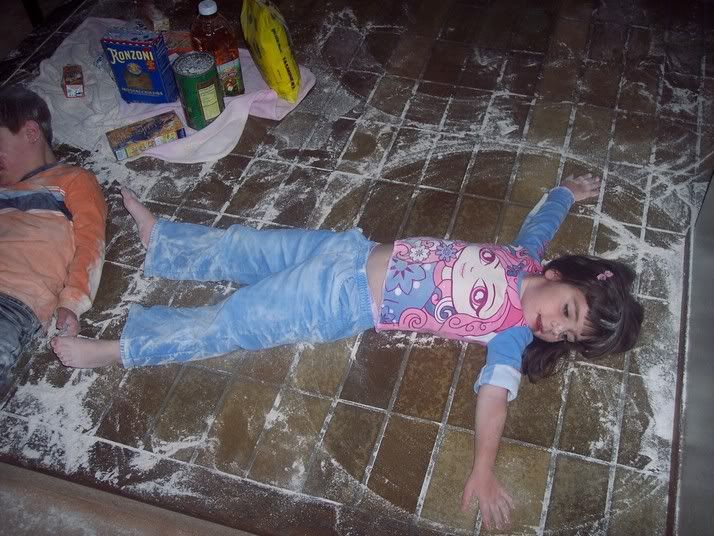 It was probably our own fault - our California born-and-bred offspring have never even seen snow, although they know about it from countless books and television shows that depict kids happily sledding, building snowmen, and whooping and hollering as they pummel one another with hastily-assembled snowballs. They have been asking us to take them to the snow all year, but we never got around to it . . . so I guess they decided to improvise.
All's well that ends well, though - there was just enough pancake mix left for breakfast the next day.